Zumba is a revolution.
With over 15 million people in over 180 countries all over the world participating in this dance fitness phenomenon, how could it not be? But does this fitness craze really have any scientifically backed fitness benefits? Or is it all just one big party as its catchphrase "Ditch the Workout. Join the Party!" claims?
What is Zumba?
Unless you've been living under a rock all these years, chances are you've heard of Zumba, seen it being done, or even participated in it. An innovation on dance fitness classes, Zumba combines moves from Latin dances such as Salsa, Merengue, Cumbia, and Reggaeton with the tenets of traditional aerobic exercise.
The use of Latin music in the classes revvs up the energy and completes the Zumba equation for addicting and fun dance workouts.
Says Eliza Stone, American Council on Exercise (ACE) certified group fitness instructor, "Zumba fitness is a program that is based on fitness and dance.
Our main purpose is that we want to create a party-like atmosphere in our group fitness classes. People have fun and they don't realize they are exercising. "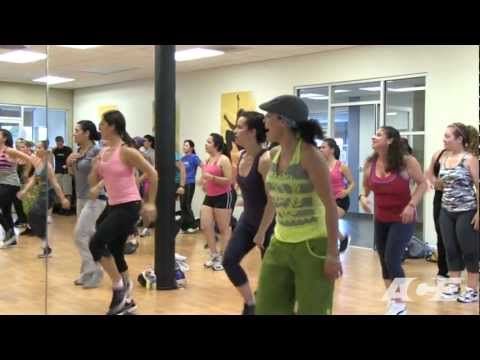 With an emphasis largely placed on the fun party rather than on the exercise, it is no wonder that Zumba stayed on the American College of Sports Medicine's (ACSM) Top 20 Fitness Trends for 2012 and 2013.
It All Started With A Happy Accident
The story of Zumba goes like this: In the mid-90s, fitness instructor and trained dancer Alberto "Beto" Perez forgot to bring his usual exercise tapes to an aerobics class he was teaching in Bogotá, Colombia.
Not wanting to delay the class, Beto improvised and played salsa music recorded from the radio. His students ended up loving the class and this new hybrid of dance and aerobics (initially called Rumbacize) spread like wildfire in Colombia.
Fast-forward to 1999, Beto moves to Miami and later meets his now business partners Alberto Perlman and Alberto Aghion through Perlman's mother, who was Beto's student in Colombia and in Miami. After this, the three Albertos proceeded to build the fitness company that launched this international fitness craze and was named Inc. Magazine's Company of the Year in 2012.
What Science Says About Zumba?
According to two scientific studies, one done at the University of Wisconsin (funded by a grant from the American Council for Exercise) and the other at the University of Chester in the United Kingdom, there is solid science supporting the fitness and health benefits of the big party that is Zumba.
In both studies, the heart rate and oxygen consumption of groups of adult females of varying fitness levels were measured before and after a Zumba class to find out how much energy is used in one class.
This is what they found:
Zumba cranks up your heart rate. The fitness industry guidelines recommend working out with a heart rate between 64% and 94% of the maximum heart rate to improve cardiovascular endurance. At 154 beats per minute, Zumba has participants at 80% of their maximum heart rate (7*). This makes Zumba a high performing cardiovascular workout.
Zumba leaves you breathless…in a great way! With participants averaging at 64% of the maximum recommended oxygen consumption, Zumba meets the fitness industry guidelines of hitting 40%-85% to improve cardio endurance.
Zumba burns a LOT of calories. In a single 30-60 minute class, an average of 363-368 calories are burned.
That's 9.5 kcal per minute! Even better news is that this goes beyond the 300 calories per workout recommended by the ACSM to promote weight loss and promote a healthy weight (link).
 Zumba is a high intensity interval training (HIIT) program. Upon examining the data gathered, the study found that the heart rates of the participants rose and fell at several points in a single class. Going back and forth between high and low intensity is the definition of HIIT, another popular exercise program that burns a lot more calories than workouts such as sustained jogging or running.
Zumba is great for anyone. Despite the wide range of fitness levels among the participants, the heart rate and oxygen consumption levels were all within fitness industry guidelines. This means that whatever fitness level you start at, Zumba classes will have awesome effects on your health.
Zumba reigns supreme. The University of Chester study also shows that, in terms of either calories burned, heart rate, or oxygen consumption, Zumba edges out popular exercises such as the bootcamp workout, hooping, cardio kickboxing, and step aerobics.
While there is a limited amount of studies around this topic, the above research from reputable institutions clearly show that Zumba has some pretty amazing fitness and health benefits hiding beneath its party exterior.
It's the Fun that Makes it Work
"Does the exercise or activity need to be fun to produce results?" says Cedric Bryant, American Council on Exercise (ACE) Chief Science Officer, "To produce lasting results, which is really the ultimate challenge, it absolutely has to be fun."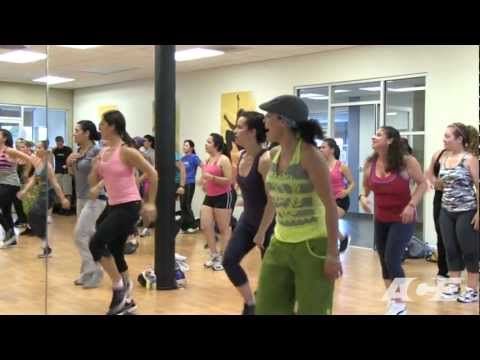 This is supported by a Cornell University Food and Brand Lab study where they found that participants who perceived their workout to be fun or enjoyable were more successful in weight loss. In the study, those who saw their workout to be hard work ate twice as more than those who had fun while working out.
This was because the first group felt the need to reward themselves afterwards.
Initially, the Zumba Fitness company's message focused on weight loss. Judging from the scientific results above, Zumba is certainly a great way to achieve this.
However, the company later realized that Zumba was not just about weight loss. It was about emotion, joy, and release. So the company changed their identity and tagline to "Ditch the workout. Join the party."
According to the Penn State Applied Social Psychology blog, Zumba affects the physical and mental health of a person by helping them deal with stress, improve self-esteem, stay fit, and have fun while doing it (link).
This is supported by the findings of a study where participants who attended an aerobic dance program regularly showed higher self-esteem, bodily self-image, self-confidence, and satisfaction.
Even if we ignore these words from the experts, by simply going to the comments sections of articles about Zumba and reading articles such as this (13*), it is clear that Zumba's philosophy makes it a fun and even empowering exercise for people all over the world. Yes there are a lot of fitness advantages, but what keeps the students body-rolling, fist-bumping, and booty-shaking in Zumba classes is the fun of it all!
The Different Kinds of Zumba
Working on the belief that Zumba is for everybody, the fitness company created 11 Zumba classes that addresses almost every fitness need and level for people of all ages. Here is a brief run down of these 11 classes.
Zumba: The classic Zumba class that combines HIIT tenets with Latin-inspired aerobic dances. This is a total workout that brings together cardio, muscle conditioning, balance and flexibility, and endurance training.
Zumba Step: This is Zumba + Step aerobics. It ups the cardio and calorie burning even more to strengthen and tone your core, legs, and glutes.
Zumba Toning: The Zumba that puts an emphasis on rhythm and coordination while toning and defining muscles in the arms, legs, and core.
Aqua Zumba: By holding classes in water, this Zumba class decreases the impact on your joints while upping the energy burned due to the water's natural resistance.
Zumba Sentao: This is Zumba's answer to weight lifting. By using a chair as your dance partner, the unique dance moves are choreographed to give an intense core workout.
Zumba Gold: The classic Zumba done at a lower intensity for the active older folks who want to get in on the fitness party fun.
Zumba Gold-Toning: This is described as a low to moderate intensity strength training for older adults that aids in preventing a muscle mass and muscle strength loss.
Zumba Kids: Kid-friendly Zumba for those aged 7-11. Classes also incorporate childhood development elements like leadership, respect, team work, confidence, and etc.
Zumba Kids Jr.: Zumba further specialized for the 4-6 year old crowd.
Zumbini: These classes are for the youngest Zumba enthusiasts aged 0-3 years old and their caregivers. The classes aim to develop a bond between child and caregiver in an upbeat and musical environment.
Zumba In The Circuit: This is essentially Zumba plus strength training. Talk about a workout!
Be Safe to Have Fun
So now that you know all the physical and psychological benefits of Zumba, you're probably wondering if you're fit enough to join this big fitness party.
Seeing as there is a Zumba for almost every kind of fitness level and need, the answer is most likely a resounding yes! But before you start getting caught up in the fun, let's go over a few of the safety precautions to make sure you minimize any exercise-related injuries.
 Check with your doctor. As always, check with your doctor first before embarking on any new workout program. Make sure your doctor gives you a thorough examination and takes into consideration your current physical health before you even sign up for a class.
Get the right equipment. There's no need to invest in expensive clothes for Zumba, just make sure these are breathable comfortable clothes that allows for a wide range of movements. Because of Zumba's varied movements, your shoes need to be thin-soled shoes with adequate shock-absorbent features and ankle support. Your best buy would be dance shoes or specially designed Zumba shoes.
Make sure your instructor is certified. Sign up for a safe and effective Zumba class by checking to see if you're learning from professionals who are certified to teach Zumba. You can look up the name of your instructor on the Zumba website. If his or her name doesn't show up, this means that your instructor is either practicing Zumba without training or their license has expired.
Start slow and keep to your own pace. It is easy to get caught up in the whirlwind of energy that your class is generating, but know that you don't have to keep up with this until you're ready. Nobody expects you to do otherwise. When you're starting with Zumba, get familiar with the footwork first then work your way up when you're feeling more confident. Also make sure that you stretch and warm up adequately as Zumba classes usually don't have much of a warm up.
Know when to quit. In a group exercise environment, you're often more motivated to work harder because of the peer pressure. But remember that everyone in the room is not at the same fitness level. So when your body is saying that it cannot take anymore, quietly step off and try again next time. The good news here is that with each session, you grow stronger and you're able to party even longer.
How to Get the Most Out of Zumba
Now that you've got the safety reminders down to pat and you're enrolled in a Zumba class. Here are other things to keep in mind to get the most out of your Zumba experience.
Exercise with group. Zumba gives you the option of joining the party either through its group classes or at home with their exercise videos. While the exercise videos have all the same moves you'll find at a group class, research finds that the fitness benefits of doing Zumba with a group class is higher than doing it at home.
If you're afraid you won't know anyone at the class, try getting your friends to join you or make friends at the class!
Have fun! The spirit of Zumba is having fun, so make sure you're doing this rather short-changing yourself by overthinking and letting self-consciousness get the better of you.
If you're really self-conscious about your moves, you can also master the basic steps of salsa, merengue, cumbia, and reggaeton via the Zumba website videos before joining a live class. Whatever you do, make sure you throw yourself at every class and give it your all to really reap the many health benefits that Zumba has to offer.
Exaggerate every movement
Shape.com asked Stacy Boyer, master Zumba instructor, her tips for making Zumba even more fun and calorie-burning. She advised that Zumba practitioners should maximize arm movement, press into the heels as often as possible, and really getting into each bend, twist, and turn.
By really maximizing and exaggerating each Zumba movement, you're able to access the maximum fitness benefits that each move can offer. This means engaging more muscles and burning more fat in the process!
Challenge yourself. It is fairly easy to fall into a rut when it comes to fitness. Even with something as fun as Zumba, if you master the movements enough, you can still get bored and de-motivated. To avoid this, try to level up your energy as much as you can. You can also try one of the other types of Zumba to keep yourself motivated.
Is Zumba All You Need?
Short answer? No. Even if it offers a plethora of health benefits, to be able to maintain a healthy body, you really need more than Zumba.
Keep a healthy diet. All your Zumba classes will be for nothing if you don't keep a clean and healthful diet! There are many diets out there that cater to almost every kind of health philosophy. To keep it simple though, eat lots of vegetables, fruits, lean protein, and whole wheat grains.
Keep fat, sodium, and sugar consumption to a minimum. If you want to track your caloric intake, you can use online tools like MyFitnessPal.com or SparkPeople.com.
Mix up your workouts
Make sure you get a variety of workouts into your fitness routine. Aside from the high intensity interval training you get from Zumba, do some strength and core training on your off days to develop other muscles that Zumba doesn't reach.
Observe your rest days. When you do intense workouts like Zumba, you stretch, expand, and extend your muscles to their full extent. Your muscles need time to recover from the intensity of your workouts. In fact, this is the time when your muscles grow to make your body better able to handle the physical challenges you throw at it. Appropriately challenging workouts will need at least one or two days rest in between.
Get enough sleep. Sleep is also a time for your muscles to repair and grow. By getting enough sleep at night (8 hours is the convention), you're giving your body enough time to restore itself after a long day and equip it self for the day ahead.
So there you have it! From either a scientific or a pleasure point of view, Zumba is a great fitness tool. Whatever fitness level you're at, you're sure to reap some great health benefits from Zumba.
It doesn't matter if you're late to the Zumba party or if you're a veteran party-goer, what matters is that you're having fun and getting healthy while you're at it!
Please read our blog at workout gear lab. Thank You