Doing the same old, boring work out routine is one of the top reasons why people quit exercising. If you've been looking to spice up your fitness, then you don't have to look any further than Zumba!
.
No class remains monotonous with Zumba. It's always fun and different with every instructor you meet. So, get your feet wet with these 5 Zumba workout videos that are guaranteed to make you get up and dance!
Zumba Routine by Mariadela Ramirez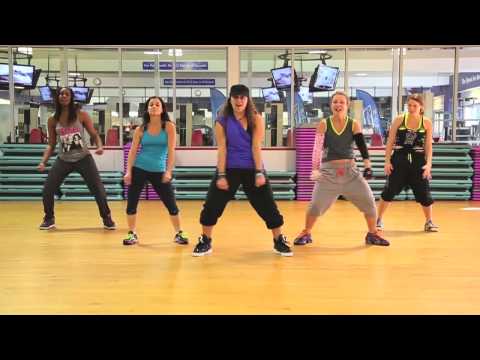 This dance choreographed by Florida based Zumba instructor, Mariadela Ramirez, is awesome for beginners. For starters, it's only a little over two minutes long and is done to the song of Jason Derulo's Talk Dirty To Me. It's the no rap, no curse version so it's also perfect for those who want to keep their workout clean. Why this will make you dance:
The instructors and the dancers don't look intimidating. They look like regular people
The whole routine is short. ANYONE can find two and half minutes in the day for a simple work out
This only involves small steps that are easy to follow
Compared to other routines, this does not involve too much hip shaking. This makes it perfect for those who are still trying to get comfortable with their bodies
There are only a few dancers on screen which is great for those who are still getting the hang of following the steps
The dancers are close to the camera so it's fairly easy to see the details of the steps
Zumba Workout by Class FitSugar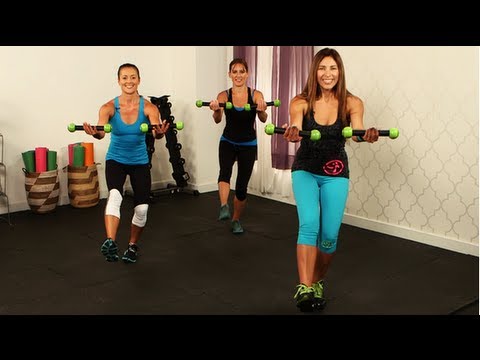 Unless you've been living under a cave, you would know that PopSugar Fitness is one of the most popular fitness channels in Youtube. Every fitness video they put up get thousands of views. This easy Zumba video in particular got over 200,000 views so it was it made perfect sense to include it on our list. Although their choice in music is a little too generic for our taste, the workout itself is still very solid. Why this will make you dance:
The instructors and dancers are very close to the camera so it won't be hard to follow the steps
They are doing the routine in a small room as opposed to a gym. This is highly encouraging to people who prefer starting Zumba in their own home
The whole dance is about 10 minutes long. Short enough so that you don't have to give too much of your time, but long enough for you to burn a significant amount of calories
The dancers are using Zumba toning sticks but you can easily replace them with 1 lbs dumbbells. These make it easy to tone your arms
This is another video that does not focus too much on hip shaking. It concentrates more on toning your arms and shoulders and burning calories through your steps. Even people who have poor coordination won't have a hard time following this instructor
Due to its toning nature, this video has a lot instructor close-ups so you don't have to worry about your feet.
Zumba Arms Workout by Carla Zumba
If you feel like you need a little more energy after the second video while still toning your arms, then watch this short video from Carla. Any Zumba instructor who gets thousands of hits without putting in her last name deserves a nod! You can also get a full body work out from Carla's channel as she has other Zumba workout videos that target the abs and the legs. Why this will make you dance:
Since this is focused on toning the arms, the moves are so quirky, it's bordering on weird! But it's the good kind of weird!
It tones the arms without neglecting the energy and your cardio. Carla still incorporates jumps, bounces, and changes in positions so that you get the maximum burn for a short amount of time.
It's only about 3 minutes long so it can be the perfect companion to your regular Zumba workout video.
You don't even need weights. The movement for the arms are so strong and so controlled that you don't need any equipment to enhance the routine. * It only has a few basic movements so you can learn this dance in no time.
Not all Carla's dancers are graceful but they're still at it! "I can't dance" is no longer a valid excuse.
Bang Bang Fitness by Diva Den Studio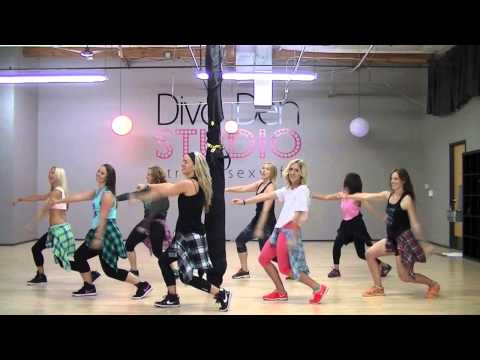 If you're ready to start with some moderate hip shaking, then look no further than this video from Diva Den Studio. This choreography was made to the tune of Jessie J's Bang Bang so it's guaranteed to pick up your day. If it's a weekend, grab a group of friends and start shaking! Remember that this video is best for mid-level Zumba students. Why this will make you dance:
It's Jessie J! Her song can make ANYONE dance
It's three and a half minutes of high energy workout
It's packed with some heavy hip shaking even for a mid-level Zumba dancer. This is a guaranteed calorie burner Diva Den Studio left a lot of space for some free styling. Be creative and add your own flavor to the dance!
The dance is sexy without being too highly suggestive
Even if the whole dance is fast-paced, it only has a few base movements. This will not take a lot of time to learn
Best Zumba Dance Workout by Estri Rifmawati
Little is known about Estri Rifmawati. Her Zumba workout videos are relatively new. This one in particular is just a little over a month old. However, there's one thing that we DO know: her fitness routines are always high energy. We love everything about this little dance gem but in order to avoid any injuries, we suggest that only the more experienced Zumba should attempt this work out. Why this will make you dance:
This girl wastes no time! You start with heavy hip movements as soon as the song starts
Estri also incorporates squats and body movements that engage your core. Your search for a full body work out through Zumba is over
This three and a half minute video is guaranteed to leave you breathless
This dance is filled with heel-taps, jumps, shoulder shakes, and pivots. All the stuff that makes a really good Zumba dance
You can actually see Estri glow from her own sweat. If the instructor is sweating, then the exercise is highly effective.
That's it for our list of Zumba videos! Good luck and have fun on your fitness journey! Do you have a favorite video that we missed? Let us know by email or comment below.
.